Website Designed & Built For You
We'll make sure your website is attractive, reflects your organisation's personality, accessible and is easy to navigate…
Strategic Planning
We help you unlock the value of your brand and products
Creative Design Work
Our great designs done, by great people, for great client
Streamlined Development
We develop websites using the latest web technology
Personalized web sites
nCorde understands that achieving online success is critical as an increasing number of businesses move online. We know how important it is for your website to stand out from the crowd.
Social Media Integration
We can surely develop the kind of professional website you are looking for
Premium Support
We don't just build websites, we provide a structure for effectively running and developing that site over the long term.
We start the development process by defining your business objectives, helping your users to make a better decision on your site by placing call to action and researching your target Audience / Users…
Every site has business objective
By defining your Business objectives it helps us make better decisions on y
our design process. While working on your project we make countless decisions such as:
Functionality
User testing
Time spent on design
Accessibility
Maintainability
text Copy
and many more.
Make your site sticky
A call to action is anything that asks the user to move from point a to point b, Help your users make decision on your site. This could include something common link clicking an hypertext link or could also include:
Purchase buttons
Signup forms
Download links
Checkout processes
RSS subscription
Vouchers
Telephone numbers
Email links
Contact us forms
Your target audience, is a specific group of people within the target market at which your product or service is aimed at.
A target audience can be formed of people of a certain age group, gender, marital status, etc.
By discovering your appropriate target market(s) and determining the target audience is one of the most important activities in our strategic planning.
" Business objectives allow us to make informed decisions based on what return these individual aspects, and expenses, will bring."
" A good calls to action helps your users find their way and will also make your site sticky "
" Happy users are a prerequisite of every successful website "
We have passion for creating unique, imaginative works of art with every design. Our creativity comes from knowing what you want and what your business requires. Armed with that information, we develop a unique design expresses your business identity in such a memorable way that your business stays on the minds of your customers.
We're committed to building websites that generate measurable results for your business. By using world class platform that is user-friendly, flexible and powerful, you can be confident that your website will be geared for growth and deliver results for the long-term. We will even train you in the management of your website so you are comfortable to manage your site.
When you hire us for your web design project you won't just brief us and wait for the results. We have developed a unique design process that is collaborative and evolutionary. We start by understanding your business objectives, your target audiences and your brand.
" It's no longer enough to have a website on the internet , it must be a good-looking website. Your users will be more likely to return back to your site when your design is clean, strong, and simplified."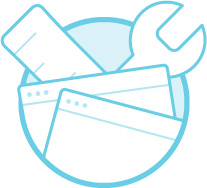 Typography – Readable texture
You will surprise your website visitors by most beautiful Typography in the world. After choice of font style, we then consider weight, size, line height, letter spacing and much more. Our emphasis will be on openness and readability of your text.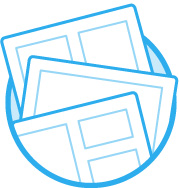 Whitespace – Design to have space to breath
We determined that your design would have space to breath. Which would improve readability and help to create a more sophisticate modern looking design. whitespace is not just about ensuring lots of white gaps in your design. It is about looking at those negative spaces and ensuring they are visually pleasing.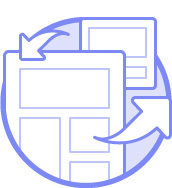 Flow – Eyes need to flow from one item to the next
Your user's eye has to be drawn around the page until it alights on the various screen elements which we need them to pay attention to. We create flow to make sure users look at the right items in the right order on your web pages. Imagery – Image is everything
Imagery is obviously a powerful tool in establishing a design direction. Good quality, professional photographs of your office or your range of products are going to impress your visitors on your website? you need a high standard of photography in order to gain the trust of potential customers. From displaying your premises to its full advantage to showcasing your products and services.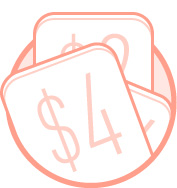 Texture – High quality patterns
Texture is a powerful tool in introducing some character and design direction to your site.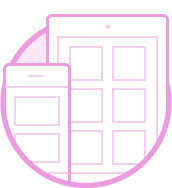 Grid – Keep your web page structured
We use grids to bring structure to the design and ensure ample whitespace. Our most famous being 960px grid system because it can be divided up in so many different ways and help lay out information in a structured and easy to follow format.
Colour – Choose the right color scheme
We know Colour is a powerful tool in communication of personality and in grabbing users attention. We underlying a huge amount of research in the selection of colour scheme.
By Knowing what your readers emotions are will help us in choosing the proper color scheme.
" Design, how things look, is an essential part "
Streamlined Development
We develop websites using the latest web technology
Moodboards – identify the character of a design look and feel
Doing some initial mood-boards help the process of thinking about aesthetics and visual design without getting too hung up on details. Mood-boards combine some examples of colour palette, imagery, texture and typography.
Wireframes – Wireframing helps to bring focus to objectives, priorities and calls to action.
Website wireframes are schematic mockups used to visually define the website architecture, labeling and functionality. Designing a website involves a whole lot more than designing something that looks good and reflects branding. We use wireframes to work out what will appear on any given page as will as outline level of importance, goal and user paths. The wireframes we create contains more information than just a layout, it outlines what different elements are on the page, why they are there and how they tie into the objectives of the site and users.
Site mock-ups – convey design elements
Once we've identified the character and personality of a design direction and we have some wire-frames in hand we start to mock-up page designs. We can create detailed wire-frames which clearly define site functionality for clients and developers and conduct task-based user testing.
Prototyping – we create clickable prototypes of your websites
By now there should be no major surprises, we build a fully functional dummy site, enabling developers, clients and test users to move around the site in a similar way to the final site. They can act as excellent tools to quickly test ideas and therefore avoid wasting time and effort during the build.
Testing – ensuring everything is working as intented
we run a suite of tests on the completed system to ensure it works as intended, meeting all objectives. Each individual test, known as a case, exercises a particular operating condition of the user environment or feature of the system and will provide a pass or fail outcome.
Cross browser compatible
We check every site we build in every major browsers to make sure the web site is compatible. Testing your design in advanced browsers as well as legacy browsers is a necessary part of our every project.
RTL Support
We build sites that have RTL (Right to Left language) support. If you are thinking of multilingual sites or site build in Arabic text format, Then you have come to the right place as we can make your Sidebar, modules, menus everyting turn into RTL.
Valid XHTML & CSS
All of our website are W3C standards compliant and valid (XHTML Strict and CSS Valid)
When you hire us for your web design project you won't just brief us and wait for the results. We have developed a unique design process that is collaborative and evolutionary. We start by understanding your business objectives, your target audiences and your brand.